Happy Thursday!! I feel like this week is just flying by!! I hope you all will join in our first ever Thoughts for Thursday Link up! Just grab the button below and link up at the bottom.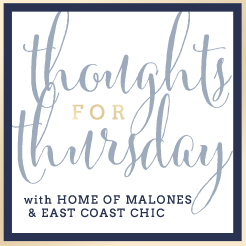 -I am completely hooked on Ladies of London! After only one episode I think it's going to be so good and better than any of the Housewives (I'm over most of them at this point). I think Marissa is my favorite American Brit and Caroline is my favorite real Brit. I think she lives in a castle. I would also like to add darling, brilliant, and quite nice to my vocabulary.
- I went to the dentist yesterday for the first time in 3 years and I had ZERO cavities. I am honestly still in shock. It also makes me think that my last dentist was shady. The last one I saw 3 years ago told me I had 3 cavities that had to be filled right away. He rubbed me the wrong so I refused to go back to him and then life got in the way and I never found a new dentist until I decided I better start taking care of my teeth again. When I brought it up to my new dentist he told me teeth looked great and I had no cavities!!
- I'm having the hardest time with Miller eating lately. He just really has no interest in any food unless it's macaroni and cheese, and even then he doesn't eat that much. I've tried making his bottles smaller but that doesn't make him eat anymore. He used to love food but lately meal time is miserable and he fights everything about it. Anyone have any advice? Is this a phase? Is this normal for 11 month olds?
- Miller's 1st birthday party is at our house in 3 weeks and I feel like we have so many things to do around the house to get ready. Ahhhhh!! I'm trying to stay sane and not obsess over every detail but it's hard not to.
- I'm trying my hardest to embrace all things "boy mom." Despite what some of you may think I'm quite girly and really not into dirt, or sticks, or getting dirty at all. Ever. Buuuttttt I have a little boy now, who is all boy and threw a fit to sit in the dirt and play with sticks at the park this week so I relented. I wiped him down with about 100 baby wipes afterwards but I feel like we're making steps forward.
- I felt baby #2 kick for the first time yesterday! I started feeling flutters last week but today I felt 3 distinctive kicks. I was afraid baby kicks wouldn't be as exciting this time around but I was so wrong, the feeling was just as crazy and amazing.
- I haven't looked at any pictures of Kim and Kanye's wedding!! As a recovering celebrity junkie I am quite proud of myself. I'm so over Kim at this point I just don't even care. I am excited though that Kourtney's having a thrid baby.
- My love of smocked clothing for Miller has gotten out of control. I swear I get something new in the mail at least once a week. I know that my days of dressing him will be over before I know it so I'm taking full advantage. I also remind my husband that if he was a girl it would be ten times worse :)
- We having a problem with who's chair this really is.
Now it's your turn!
Follow us on Bloglovin' too: