Welcome back to another Thoughts for Thursday! Remember you can blog about whatever you want! Just grab the button and link up below.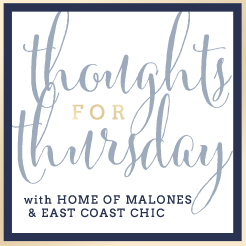 This is a subject that has been weighing on me heavy lately. I absolutely love this blog and sharing pieces of my life with you here. I also love my family a lot and care a lot about their privacy and safety. Recently a few of my blogger friends have come forward discussing privacy and some of the scary things that are going on out there on the web with kids and social media. Stephanie has a great post
here
if you want to check it out. Just seeing these things has really got me thinking.
I could probably write a 100 paragraph post on the subject but I'm going to spare you and just say that I'm going to be changing things a bit around here. I'm still going to share about my personal life, experiences in motherhood, talk about my boys but I might just use less pictures and there will definitely be more watermarking. I still haven't decided what the best option is for me yet and I'm trying to work through a way that won't take away from this blog but will still protect my boys from the scary things out there.
If you have any suggestions I would love to hear them. If you have kids I urge you to read Stephanie's post especially if you use instagram a lot!
Now it's your turn!
Use #thoughtsforthursdays on Instagram and tag us @homeofmalones and @eastcoastnat.
Link up starts at 7am EST.
Follow us on Bloglovin' too:
Home of Malones and East Coast Chic