Hi Everyone! Welcome back to another Thoughts for Thursday. You know the drill. Write about anything you're thinking about, grab our button below, and link up at the bottom. Can't wait to see what you all are thinking about.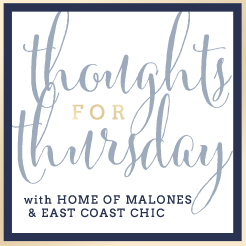 Sorry I've been MIA. Life has been busy this week.
- We're supposed to be getting a major snowstorm today but so far it's just rain. After all the hype we better see some white stuff.
- I'm back to square one with the family room rug hunt. A few of you commented that rug I posted last week
here
sheds a lot or isn't as soft as it seems. I went to see it in person at our store and it feels soft but seems to shed a lot.
- I plan to do a blog or instagram sale next week with my baby clothes so be on the look out! I will let you know which one I finally decide on and when I will have it. I'm still sorting through bins and bins of clothes.
- Matthew turned four months old yesterday!! I still can't believe it. He's changed so much in the last three weeks. He's getting such a little personality and becoming so active. He's rolled over quite a few times but hasn't done it consistenly yet and I'm ok with that.
- Speaking of Matthew he slept in his crib for the first time last night!! I put him in after his dream feed around 10:30pm (he was in the swing downstairs with me before) and he stayed in there until 6:30! I am so proud of him. He does still wake up for 4am feeding but the fact that I was able to put him back to bed in there was a major victory. We had an awful time transitioning Miller to his crib after sleeping in the rock n play for months so I'm hoping it continues to be this easy. Fingers crossed!
- I stumbled upon this Etsy site
Little Worm and Company
and I love their plates! They are hand painted personalized ceramic plates for kids. I am planning to get the birthday ones for the boys. I think it will be so fun for them to have something special to eat their birthday breakfast/lunch/dinner/cake etc off of. They also have christening plates, baby keepsakes, and holiday plates. They are all so cute!
- While browsing Etsy I came across this
adorable seersucker diaper cover and hat
that you can bet will be on Matthew this summer. I felt like Miller was too old for just the diaper cover last summer but Matthew will only be 7 months old when summer starts so he's the perfect age!
- I can't believe Easter is in 4 weeks. I always say I'm going to be ready in advance and then next thing I know it sneaks up on me! I just ordered a few things for the boys and I'm hoping to have their Easter baskets ready at least a week in advance. I will also be hosting our family brunch so I need to work on my decor and menu for that. This will be the first year in 2 years that I haven't been pregnant on Easter so I can enjoy a mimosa or two :)
- I'm obsessed with this song. Never ever thought I would say that but I can't get enough of it. Those Jo Bros have grown up quite a bit.
Now it's your turn!
Use #thoughtsforthursdays on Instagram and tag us @homeofmalones and @eastcoastnat.
Link up starts at 7am EST.
Follow us on Bloglovin' too:
Home of Malones and East Coast Chic