Happy Thursday and welcome to another Thoughts for Thursday! Remember you can write about whatever is on your mind. Grab the button, and link up below. Thanks again for joining us!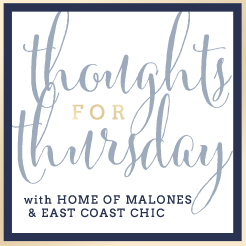 Before Matthew was born I swore I was going to do things differently. I was going to get him on a schedule, have him sleeping in his own room by 8 weeks, and sleeping through the night by 12. I swore up and down that I would NOT let him sleep in our bed on my chest like I did with Miller. I was going to be strict and have schedules and really be in charge.
But in the middle of dealing with two under two I started to throw away all my "rules" and just did what I knew worked.
I may not be following all the "mom rules". I may not sleep again until I'm old and gray. I don't know if what I'm doing is right or wrong but I know that time is slipping away faster than I ever imagined. Miller is going to be 2 years old in a few short months and in two weeks Matthew will be 4 months old. These times of having them small and me being their main caregiver, best friend, constant entertainer, tear drier, boo-boo fixer, and cuddling buddy are limited. One day they won't need me or want me to do those things
So while I may never sleep 8 hours again or have a clean house or look perfectly put together, I know I will never look back and regret the co-sleeping or the late night snuggles or reading a book for the 10th times or playing peek a boo for the 100th time. Seeing their smiles, hearing their giggles and knowing I make them feel safe. Those are the moments that matter.
"Babies Don't Keep"
Mother, O Mother, come shake out your cloth,
Empty the dustpan, poison the moth,
Hang out the washing, make up the bed,
Sew on a button and butter the bread.

Where is the mother whose house is so shocking?
She's up in the nursery, blissfully rocking.

Oh, I've grown as shiftless as Little Boy Blue,
Lullabye, rockabye, lullabye loo.
Dishes are waiting and bills are past due
Pat-a-cake, darling, and peek, peekaboo

The shopping's not done and there's nothing for stew
And out in the yard there's a hullabaloo
But I'm playing Kanga and this is my Roo
Look! Aren't his eyes the most wonderful hue?
Lullabye, rockaby lullabye loo.

The cleaning and scrubbing can wait till tomorrow
But children grow up as I've learned to my sorrow.
So quiet down cobwebs; Dust go to sleep!
I'm rocking my baby and babies don't keep.
Now it's your turn!
Use #thoughtsforthursdays on Instagram and tag us @homeofmalones and @eastcoastnat.
Link up starts at 7am EST.
Follow us on Bloglovin' too:
Home of Malones and East Coast Chic