Welcome to another Thoughts for Thursday. Remember you can blog about whatever you want. Just grab the button and link up below!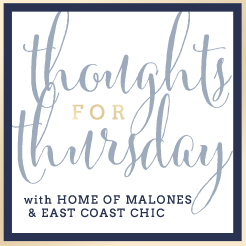 - Some days I feel like I'm barely hanging on by a thread. Two kids is so physically and emotionally draining.
- I failed on my no sweets for the month of January. I made it until the 17th when I gave into Kyle's temptation and had a chocolate chip cookie. It's all been downhill from there.
- I haven't been to Target in 2 weeks. I believe that is a record for me.
- I'm going to Target on Friday and I'm mostly looking forward to picking up some Valentine's M&M's. Is it just me or do the holiday ones taste better than the regular ones?
- Lately I've been a little crazy stressing (and still hormonal) that Matthew might be my last baby so I must buy him ALL THE CUTE BABY CLOTHES I see. It's getting bad. Babies growing up is so bittersweet.
- Speaking of growing up sometimes I forget how much of a baby Miller still is. Having Matthew has made me see him as older than he is so I'm trying really hard to stop doing that. I have to constantly remind myself that he's only 1.
- Oh and some how Matthew is 12 weeks old and will be 3 months next week. HOW?!?! Time moves too fast.
- My birthday is in 10 days. It's the only redeeming quality of February. Otherwise February kind of sucks (at least it does here in MD because you're over the holidays and ready for spring but it's still freezing and gray everyday).
- They only gift I've requested is a cookie cake from Great American Cookie. I'm interested to see if Kyle actually delivers on that request.
- The spring clothes in all the stores are such a tease. Maybe I just need to move somewhere warmer.
Now it's your turn!
Use #thoughtsforthursdays on Instagram and tag us @homeofmalones and @eastcoastnat.
Link up starts at 7am EST.
Follow us on Bloglovin' too:
Home of Malones and East Coast Chic