Sorry I'm running so late today! Went to bed early last night before I finished this post. Hope you all will join us for another Thoughts for Thursday. Remember grab the button and link up at the bottom.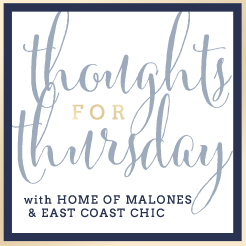 Quite a few of you requested to hear more about life with two under two and how I'm handling it. I'm working on another post about it too but I decided to share a day in the life with you to get an idea of how my days go!
Date: Monday January 19, 2015
Kyle works and I stay at home with our two kids
Miller- 18 months
Matthew- 10 weeks
5:30- Matthew is awake and ready to eat. He was just up 3:30am and at 11 before that so I'm pretty tired. He's still sleeping next to our bed (because I'm lazy) in the Rock n Play for most of the night so I pick him up to nurse him. Matthew usually just sleeps on my chest after he eats and I love that we have some time to ourselves to just lay around. I usually play on my phone and doze in and out of sleep for the next hour until Miller is up.
6:30am Miller is awake and yelling out in his crib for us. I put Matthew into the Rock n Play and I pop into his room, change his diaper and take him downstairs. He gets an applesause pouch and heads for his toys.
6:40am I go back upstairs to get Matthew changed. Miller comes looking for me so I take Matthew down half dressed and finish up with him downstairs
6:50-Make oatmeal for Miller and me. Matthew watches us from the bouncer which I have up on our counter.
7am- I finally make my coffee and Kyle leaves for work. Miller helps me feed Layla. This is his new favorite thing to do.
7-7:45 Miller watches Thomas while I get dressed (I change into my
I could answer the door if someone rang it and not look like a crazy women
clothes), clean up kitchen and answer emails/blog and put Matthew in swing for nap. I don't remember my coffee until 7:20. Thankfully it's still warm
8am- We head into the basement to play while Matthew naps upstairs.
9am- Head upstairs for snack and to change and feed Matthew. I try to read books or play an app with Miller while I feed Matthew so he doesn't just mindlessly watch more tv.
9:30am- Matthew plays on his playmat while Miller plays trains and toys until he decides he wants to join Matthew
10:15am- Miller down for nap. He usually doesn't go down this early it's usually more like 11:30-12 but he was up around 10pm for a hour because he's getting his top molars so I knew he had to go down early.
10:30am-Take Matthew into our room and put him into the swing and hop into the shower.
11am- Both babies are asleep!! It's a miracle so I try to tackle my to do list. Make phone calls, read blogs, email, laundry, etc. This is about where I stop taking pictures for the day- so sorry!!
12:30pm- Matthew wakes up. Change him and bring him downstairs to nurse him. Watch Hart of Dixie that I didn't get to watch last Friday and spend some time playing with Matthew. He's just starting to coo and "talk" to us which just makes my heart melt. I love baby coos.
1:15pm- Miller is awake. He slept 3 hours thanks to exhaustion and teething. This is rare but I enjoyed every minute of it. Get him changed out of pjs and downstairs for lunch. Lunch is a really hit or miss meal for us. I make him a peanut butter sandwich and give him a nutri grain bar. He only eats the nutri grain bar and drinks some milk. Oh well.
2:30- Miller's friend James and his mommy come over to play until 4pm. Thankfully Miller can burn some energy!
4pm- Our friends leave so it's time for a snack and Mickey while I have a diet coke and scroll insta and blogs and feed Matthew
4:30pm- We play with Matthew which usually involves Miller trying to hit him or squash him until Miller decides he wants to color for a little bit. He just started to LOVE coloring and crayons and I like it because it's a quiet activiy. This can be a really tough time of day for both of them and me but today everyone is cooperating so it's a win!!
5pm- Start dinner for Miller. It's chicken nuggets with BBQ sauce (he's really big into dipping these days), veggies, and toast for dinner night. Matthew is back in the swing for a little snooze. Miller is usually in the kitchen helping me or in the family room playing. I usually turn the local news on so I can catch up with the day's stories.
5:30pm- Miller eats while I cook our dinner. We're having turkey tacos.
6pm- We all head upstairs so Miller can take a bath. He loves bathtime and Matthew loves watching.
6:20pm- We head downstairs so Miller can have milk and watch a Thomas before bed. I usually let him watch two Thomas shows since they're only 11 minutes long.
6:45pm- Upstairs for stories and bedtime. If Kyle is home he will do bedtime with Miller but since he's working late I have to do it and take Matthew with me since he's awake now. Miller is not happy about having Matthew in his room but we make it work with a few tears and screams.
7pm- Lights out for Miller so I head back down with Matthew to feed him. Miller usually talks to himself/plays for 10-15 minutes before falling asleep.
7:30pm- Kyle gets home
7:45pm- Eat dinner while Matthew chills in the bouncer
8pm- Watch The Bachelor (Kyle watches too) and take turns holding Matthew until he falls asleep. We flip between this and Celebrity Apprentice. Usually I have a bedtime routine with Matthew but he's really fussy and just wants to be held. I'm also exhausted and drained so I don't mind us just holding him. This is usually when I try to get my blogging done for the next day.
10:00pm Upstairs to bed and Matthew transitions to rock n play fine! Yay!! This is always a tricky one. Let's hope he sleeps until at least 1am so I can get more than 2 hours of sleep.
So that's what my days look like! They can be long and exhausting but I do feel very lucky that I get to be home with both of my boys all day.
Now it's your turn!
Use #thoughtsforthursdays on Instagram and tag us @homeofmalones and @eastcoastnat.
Link up starts at 7am EST.
Follow us on Bloglovin' too:
Home of Malones and East Coast Chic