It has officially been 6 weeks and 2 days since Matthew was born. I feel like we're finally emerging from the postpartum fog and feeling more and more human everyday. I wanted to give a little update on Matthew and newborn life the second time around.
Matthew: 6 Weeks
Weight: 10lbs 9oz (75th percentile)
Length: 22.75 inches (90th percentile)
Head: 37.5 cm (25th percentile)
Stats as of 1 month appointment
So far he's a little bit bigger than Miller, not too much but you can see Miller's stats
here
. The only place he's behind is head size!
Eating: Matthew is still 100% breast milk and doing well. We've had some feeding issues because I have a huge oversupply and overactive let down so breastfeeding can get really stressful because he gets too much milk to fast. I realize having too much milk is a blessing not a curse but it's hard to watch your baby try to feed but end up choking, coughing, turning red, and getting upset. I'm working on some things to fix it like pumping, certain feeding holds, and at least 1-2 bottles a day that aren't stressful for him to help even things out. The doctor and lactation consultant both say he should be able to handle the oversupply as he gets older but if he doesn't and continues to choke we may move to exclusive pumping.
Sleeping: Matthew has been a great sleeper so far. We've even had some 5 hour stretches out of him! His typical schedule at night is sleep 7-10pm, awake 10-12 or 10-1, and then down from 12-5 or 12-6am. The long stretch after midnight is such a blessing that I do not take it for granted. Trust me Miller was never this good at this age so maybe this will be my good sleeper.
Temperament: Matthew's personality is really starting to come out! He's so different from Miller already it's crazy. Even though I've done this parenting gig before it still feels completely new because Matthew is his own person with different needs and wants from Miller's. Matthew loves to be held, a lot. Miller could easily be soothed by the swing or bouncer while Matthew prefers to be soothed by being held. If he had his way I would hold him all day every day! Since I have a 17 month old that still needs a lot of attention I've been doing a lot of baby wearing these days which has made life easier. Matthew also loves some things Miller hated and hates some things Miller loved! These kids sure know how to keep us on our toes.
Here are some of our favorites this month:
Baby Jogger 2014 City Select Stroller w/2nd Seat
this stroller has been awesome and has been a total life saver running errands and walking the mall. It took a little getting used to but now that I have the hang of it it's easy to maneuver.
Fisher-Price Snugabunny Cradle 'N Swing
- this is the only place Matthew will sleep other than on my chest! So we're going with it. He hates the Rock n Play which Miller loved- go figure!
Graco Pack 'N Play with Newborn Napper
- Matthew will sleep in this newborn napper sometimes but the changing table has been key! I've also been using it for Miller again (because he wants to lay up there too) so it's doing double duty
Dr. Brown's BPA Natural Flow Bottle
- Still love these bottles and Matthew has taken them like a champ.
WubbaNub Brown Puppy
- Matthew loves these pacifiers. Miller would never take them but so far they've been perfect for Matthew. I love that the little animal attached to them helps to keep the pacifier in his mouth
Philips AVENT Double Electric Comfort Breast Pump-
- I just saw while searching to link this that this model has been discontinued by the manufacturer (not sure why). I still love mine 17 months later and have had no problems using it 2-3 times a day.
Lansinoh Breastmilk Storage Bags
- Love these storage bags! I've been building a freezer supply and these are great for storing large quantities since they can lay flat which is key since I have limited freezer space.
Aden + Anais Muslin Swaddle Blanket
- unlike his brother Matthew loves to be swaddle and so far these are the only blankets he likes to be swaddled in.
Fisher-Price Bath Tub
- I had planned on getting a new tub but Matthew has loved this one so far and smiles and coos during bathtime, so for now we're keeping it!
Chicco Keyfit 30 Infant Car Seat and Base, Pegaso
- Again unlike his brother Matthew loves the car seat!! Driving with Miller for the first 4 months of life was awful and stressful because he screamed non stop. Buckle Matthew in and get the car moving and he's asleep within five minutes! It's been so nice and made running errands with him a breeze.
I will be back tomorrow with my postpartum favorites and stay tuned because I'm sharing my c-section recovery secret weapon!!
If you have two or more kids did they love and/or hate different baby products?!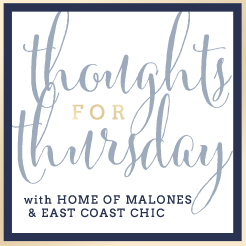 Use #thoughtsforthursdays on Instagram and tag us @homeofmalones and @eastcoastnat.
Link up starts at 7am EST.
Follow us on Bloglovin' too:
Home of Malones and East Coast Chic