Happy Thursday! Remember to write about whatever you want, grab the button, and link up at the bottom.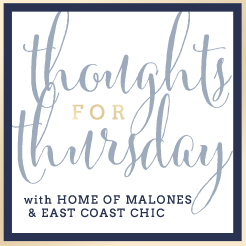 I'm back today with my next installment of must have baby registry items and this time we are focusing on nursing and feeding favorites. Just like my previous post on baby gear (
click here
for post) I've included my favorites and then I've included what I'm looking to purchase for baby #2.
1.
Dr. Brown's Natural Flow Bottles
- LOVED these bottles! I tried quite a few bottles for Miller including Playtex drop ins, Avent, and Avent naturals and these were the only ones he would take. I introduced bottles when he was 2 weeks old (I have no regrets and had no problems with breastfeeding introducing them so soon) and by 4 weeks these were the only ones he would take. I found the made they transition from breast to bottle easier and we had no tummy troubles with them. They have a ton of parts and are annoying to clean but worth it to me. I plan to use these again for baby #2.
2.
Philips Avent Double Electric Comfort Breast Pump
- This was the breast pump I received free from my insurance company and I thought it was great. It is bulky and you do have to sit with it plugged into a wall so it may not be the best option for working moms if you want something more discreet. It's not one of the most popular brands but it served me well pumping 1-2 times a day for 7 months. As long as it still works and doesn't break I'll be using this for baby #2.
3.
Lansinoh Breastmilk Storage Bags
- I read a ton of information regarding storing/freezing breast milk and these always came back as the best option and I have to agree! I used these exclusively for freezing breast milk and never had a problem with any leaks. I loved that they laid flat so I could store a lot without taking up too much room in our freezer. I would just use the bottles that went with my pump to store breast milk in the fridge that I was going to use within a few days.
4.
Bebe Au Lait Nursing Cover
-I have this nursing cover and love it! I don't know about most people but I preferred to be covered up when I was nursing and loved these covers. I would keep it in my diaper bag so I would have it when we were out and about.
5.
Gilligan & O'Malley Nursing Tops and Bras
- Can't say enough good things about these nursing tops, their bras, and the sleep bras! First of all they're not too expensive and secondly they are so comfortable. Comfort is key when you postpartum, sleep deprived, and trying to get a hang of nursing. I suggest having 2 or 3 of these along with 2 or 3 sleep and regular bras.
6.
Dr. Brown's Bottle Brush
- I found that I hand cleaned most bottles and breast pump parts rather than using the dishwasher. I tried a few brands of bottle brush and always came back to this one. I buy a new one every 2-3 months and I still use it to clean Miller's sippy cups.
7.
Munchkin Formula Dispenser
- Once I was weaning Miller and switching him to formula I realized that I needed to have formula on hand with me all the time. These formula dispensers made it so easy to just scoop the desired amount I needed for the day and pop it into my diaper bag. I would just fill the bottles with water before we left so I was ready when needed.
8.
Babyganics Bottle and Dish Soap
- Since I hand cleaned all of Miller's bottles and my breast pump parts I wanted a dish soap that was baby safe and gentle. I loved the Babyganics foaming dish soap! I now just use method soap for Miller's sippy cups but will probably start using this again for baby #2's bottles.
9.
Munchkin Infant Bowls and Spoons
- I started using these bowls and spoons when Miller started eating rice cereal around 5 months old and they were perfect. I loved the size of both and the fun colors they come in. They are also easy to throw into the dishwasher. I still use them for snacks and oatmeal for Miller even though he feeds himself now.
10.
NUK Orthodontic Pacifiers
- I didn't really know where to throw these in but if you've seen any pictures of Miller lately you know he loves his pacifiers!! I actually tried to introduce them to him for months (we tried every brand including this one) but he didn't end up taking one until about 7 months old. I actually stopped offering the pacifier around 5 months but a friend suggested giving him a few to chew on when he was teething around the 7 month mark so I did and he initially chewed on it and then started sucking on it and the rest was history. I know people have a lot of opinions on pacifiers but they ended up being a lifesaver for us and Miller didn't start sleeping through the night until he took one!! I may regret this in a few months when I try to take them away but for the time being I'm a huge pacifier fan. I'm still not sure what I will do with baby #2 and pacifiers!
11.
Cuisinart Mini Food Processor
- When Miller first started eating baby food I decided that I wanted to make my own and quickly learned (thanks Pinterest!) that I didn't need a fancy baby food machine and that my mini food processor would work fine. I've had this food processor for years and found it was perfect for making small batches of baby food. My baby food making days were short lived.. Miller was just never a fan of being fed and hated purees so we ended up going with a self feeding/baby led weaning feeding technique by the time he was 8 months old. So I'm glad I never spent any money on a fancy baby food machine. I have no idea how baby #2 will be but I plan to make my own baby food again if he'll let me.
12.
Sage Spoonfuls Glass Food Storage
- For the short time that I did make baby food I stored it in these great baby food storage containers. I really wanted glass containers and I liked that these were sturdy and could be frozen. I never had a problem with freezer burn and had no problem thawing them out as needed. I also liked that you could easily stack them in the freezer and not take up too much space.
13.
Earth's Best Organic Baby Food Pouches
- Miller was never a fan of being fed by anyone and did not like purees as a baby but as he got older he loved these pouches! He can feed these to himself and he's getting the fruit and veggies that he needs in his diet. These were helpful when he first stopped letting me feed him purees but still didn't have enough teeth to chew a lot of fruits. He now eats regular fruit and veggies but since we are working on him gaining weight before his 18 month appointment I've found these pouches to be a good healthy snack to help beef him up!
So there you have my list of must haves! There are only a few things under the feeding/nursing category that we are looking into getting for baby #2 and I would love any opinions on these items if you've used them or tried them!
1.
Baby Brezza Formula Maker
- So I thought this "Keurig of formula" was a little excessive until I started mixing my own bottles and saw how time consuming it could be. One of my girlfriends has one and absolutely swears by it! She loves it and has been using it since her son was four months old and only has good things to say about it. I plan to breastfeed this baby but know that I will probably have to introduce formula at some point before he's 1 like I did with Miller and this just looks like it would make my life a whole lot easier. It doesn't have the best reviews on Amazon so I would love to hear from anyone who tried it.
2.
Dr. Brown's Electric Steam Sterilizer
- As I mentioned I hand cleaned most of Miller's bottle and my breast pump parts but I'm afraid with a toddler running around I won't have time to be standing at the sink all day cleaning. I thought this steamer might come in handy and make cleaning those Dr. Brown's Bottles easier. Has anyone used this? Does it work?
3.
My Brest Friend Nursing Pillow
- I had a boppy pillow for Miller but it just never worked for us. I used it for the first week we nursed and then I just switched to regular pillows and eventually no pillow. The boppy was just always awkward and didn't sit right. So many people have told me that they loved the Brest Friend pillow so I'm considering getting one. Has anyone tried it- love or hate it? I'm going to give the boppy another try and if it doesn't work I'm going to look into this.
So there you have it! Sorry for another long and wordy post but I love hearing/reading what works for other moms/bloggers so I had to share my opinions on these products we've loved. If you use anything to make feeding an infant easier that I haven't mentioned please let me know- I'm always looking for new options.
Use #thoughtsforthursdays on Instagram and tag us @homeofmalones and @eastcoastnat.
Link up starts at 7am EST.
Follow us on Bloglovin' too:
Home of Malones and East Coast Chic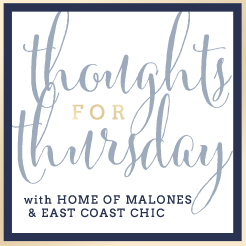 *this post contains affiliate links. For more information on affiliate links click here