Why is picking paint colors so hard?!
When we bought our first house in 2008 I knew exactly what I wanted and picked out our colors rather quickly. I leaned more toward greens and beige and it all came together really nicely. When we moved to our current house in early 2013 I wanted to shy away from greens and add more blue and grays so I went with a greige all over main level and upstairs hallway and blues or grays in most of the other rooms.
This time around I am sort of leaning back to greige/greens/blues but Kyle is leaning toward more blue-grays. We're sort of at a cross roads with what to paint our main areas. We've hired a painter to paint our foyer, kitchen, family room and the boys rooms. The rest of the rooms we plan to do ourselves once we've lived there for a few months since I tend to change my mind often :) Since we have the painter scheduled for closing day I'm down to the wire and need to get him our paint colors.
First up is our foyer. Since this is what people will see when they walk in the house I want this area to look good and make a statement or "pop" but I don't want it to be too overwhelming either that people think WTF.
This is right when you walk in. We will paint the foyer and upstairs hallway the same color.
Here is looking down from the second floor. Do you like that random ledge on the left?? I have no idea why or how these became popular in the early 90s. What exactly did people want to display on them?! That light will eventually get changed out too.
We are between two colors. Kyle loves Sherwin Williams Lazy Gray and I love Sherwin Williams Repose Gray. They are both cool neutrals but lazy gray has more blue in it.
Sherwin Williams Lazy Gray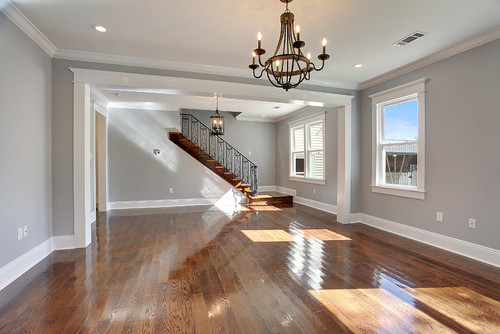 Sherwin Williams Repose Gray
All the ceilings and trim will be painted by our painter in Sherwin Williams Pure White (in satin for trim and flat for ceilings) for reference.
I'm not going to lie I am a huge baby when it comes to picking out paint colors. I really like to play it safe and stick with the beige/greige/light colors in my main living areas. I'm definitely a "neutral nelly" and afraid of color. Yes even a light gray blue scares me, that's how bad I am.
Kyle on the other hand just wants something different and said he's tired of looking at all the beige on our walls. (We currently have Benjamin Moore Revere Pewter in our main living areas and upstairs hall.) He was never one for having an opinion on paint colors, or decor for that matter, but since his company has started developing and building senior living facilities he's been working with interior designers more and has a huge interest in our house this go round. I love his input and I like that he's pushing me outside of my box a little but still feel uncertain. Since our foyer is two stories I really want to make sure we get it right the first go round.



So what do you all think? Do you like color or are you scared of color like me? Do you have any no fail colors you love? I asked on instagram and got a lot of good ideas from you guys so I'm still checking all of those out.
Use #thoughtsforthursdays on Instagram and tag us @homeofmalones and @eastcoastnat.
Link up starts at 7am EST.
Follow us on Bloglovin' too:
Home of Malones and East Coast Chic