Welcome back to another Thoughts for Thursday! Thank you so much for joining us each week. Remember to grab the button and link up below.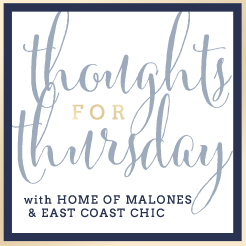 It's been awhile since I've done one of these and I feel like I just need a brain dump...
- Packing sucks. I already told Kyle we are living in this house forever because I don't have the energy to move again.
- Miller has been watching way to much tv/you tube truck videos lately but I don't know what else to do with him while I (try to) pack. I am not proud of this.
- Speaking of you tube truck videos, these things are like crack. He would watch them all day long if I let him. He's currently obsessed with the Disney toy review ones. Basically adults opening up toys and showing you how to play with them.
- I'm getting better at blogging again but I am HORRIBLE at answering emails and reading all my "blog friends" blogs. II read most of them on my phone and can't comment. I'm trying to get better and catch up with all of you. It's just been so hard to find time lately.
- Kyle has been out of town for work the past three weeks, he's home on the weekends but they go by so fast. Solo parenting is exhausting. All single parents deserve a special award
- Matthew is officially my crazy kid. My sweet little tiny cuddly baby that was, I swear, just born is so busy now! He does not sit still. He beelines for the steps any chance he gets. Pulls up and climbs onto anything and everything. He is so much worse than Miller and anyone that knows us in real life knows Miller is a wild man and Matthew is making him look calm. #heavenhelpme Those two are going to give me a run for my money.
- Miller is obsessed with playdoh right now and he loves to mix all the colors together! Who is this child??! I was obsessive about my colors never mixing growing up and it takes all my self control not to scream "NO don't mix them together"
- Speaking of playdoh I love the smell of it. Anyone else?
- I quit breastfeeding Matthew a month ago. I'm happy and sad about it. I was down to two feedings a day (the rest were formula) so it wasn't too hard to do. My hormones are all out of whack though as I adjust. I never experienced this with Miller because I was already 8 weeks pregnant at this point.
-I still have 10lbs of baby weight I cannot.get.rid.of. My regular clothes fit again and I know it's just a number but I still feel blah about it and want it off. The scale does not budge at all. I think I'm going to finally break down and do a shake/diet program of some sort.
- My postpartum boobs are even more depressing than my weight. Nursing two kids has ruined them. Now I just need to budget in a boob job for me...
- Oh and my face looks like a teenagers. I feel like I have full blown acne again. It will not stop breaking out. I guess this is what happens when all the hormones are out of my body.
- I broke my no shopping in July... I picked up a few dresses for a baby shower I have next weekend. I'm waiting for them to arrive and will return them if they don't work but I just hate everything in my closet right now.
- I bought a lot of non-maternity clothes when I was pregnant with the intention of wearing them again and I haven't touched them once this summer. I HATE all my clothes from pregnancy. I think they remind me of being bigger and uncomfortable so I've lent them all to my sister who is pregnant.
- I can't wait to start fall clothes shopping! Anyone else?
Use #thoughtsforthursdays on Instagram and tag us @homeofmalones and @eastcoastnat.
Link up starts at 7am EST.
Follow us on Bloglovin' too:
Home of Malones and East Coast Chic