Hi Everyone and welcome back to Thoughts for Thursday! Remember you can write about thing you want. Just grab the button and link up below!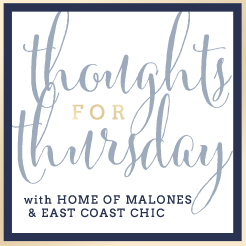 Sorry this is a random one!
- Have you seen this post on Mommy Shorts about
parenting in the 70s and 80s?!
It's hysterical and so true. Some how we all managed to survive, why is parenting so serious these days?!
- So I have half finished posts on my breastfeeding story and my one year as a stay at home mom but those keep getting pushed back because I have no brain power these days to write coherent sentences. I'm much more into pretty pictures and bullet points. I promise to finish them soon.
- NO ONE is sleeping in my house. I am seriously losing my mind.
- I feel like all I do is complain these days but I promise I'm not miserable! I keep telling myself this is just a season and this too shall pass.
- I used to be able to drink one cup of coffee a day max because I was sensitive to caffeine. Lately I can drink three cups and not even blink.
- I feel like Easter really snuck up on me this year! I will be sharing the boys baskets along with some of my minimal Easter decor.
-When did you start feeding your infant solids? My pediatrician told me at Matthew's four month appointment to start once we shows interest in food. At that time he wasn't but over the past 10 days or so he wants to sit at the table with us and stares down what we're eating. He will be 5 months on Saturday and I think I started Miller at 6 months but he was very on and off with eating from the start (and still is)
- Since Matthew will be a squishy baby with lots of rolls this summer I plan to keep him in bubbles and onesies all summer long. I just snagged these onesies below at Carter's and they are so cute! They're still having a 50% off sale so stock up while you can!
- I have a gift card to West Elm from my birthday that I still haven't spent and I'm thinking about using it on some outdoor pillows four our deck furniture. These are two I'm eyeing:
and how cute is the back!
- Is it common to be clingy at 21 months old? Miller has always been great about playing by himself but lately he needs me to play with him all the time or be sitting right next to him or him sitting on my lap. This is new over the past month and sometimes I love it but sometimes it's hard to balance with Matthew.
- My dad is coming to pick up Miller today for a play date with him (which means lots of rock throwing and digging in the mud) and I'm excited to run errands with just one baby!
Hope you all have a great Thursday!
Now it's your turn!
Use #thoughtsforthursdays on Instagram and tag us @homeofmalones and @eastcoastnat.
Link up starts at 7am EST.
Follow us on Bloglovin' too:
Home of Malones and East Coast Chic