**So sorry everyone!!! I thought I hit publish on my way out the door to the gym this morning and clearly I didn't!!** Apologies to everyone trying to link up!
Welcome back to another Thoughts for Thursday! Remember you can write about whatever you want and link up below!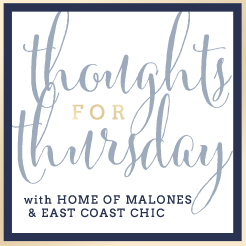 We bought our house two years ago and as I've mentioned before we are slowly working on renovating/updating it. We did our kitchen last winter which you can see some pieces of
here
and
here
. I still owe you a full detailed post on that which I promise is coming next week!! We are now moving on to our upstairs bathrooms. First the master and then the hall bath. I'm so excited to get started on this process. While the bathrooms were in good condition when we moved in they're still almost 30 years old and stuff is just wearing down and obviously not that pretty anymore.
We met with our contractor this week to go over the intial proposal and now comes the fun part. Picking out the pretty stuff, as I like to call it! I've been going through my
bath Pinterest board
and searching the internet all over for ideas. I'm still not sure exactly what we'll do but here is my starting point.
Our master bath isn't gigantic but we're hoping that we'll be able to make some changes to make it more functional and pretty :) Right now we only have one sink and a pretty tiny vanity so we're trying to see if we can get two sinks or at least extend out the vanity so there is more storage and counter space. I would love some pretty mirrors and have no idea what direction I want to go with lighting but I'm thinking I might do sconces or keep the recessed lighting we have because we do have a bulkhead in the bathroom that can't be moved (well it can but it's $$$$ and we're not looking to spend a ton).
I promise to keep you all update and once we have the final plan I will share the before pictures and what we're going to do with it.
Has anyone recently completed a major bathroom renovation? Any advice for me?
Now it's your turn!
Use #thoughtsforthursdays on Instagram and tag us @homeofmalones and @eastcoastnat.
Link up starts at 7am EST.
Follow us on Bloglovin' too:
Home of Malones and East Coast Chic