Welcome back to another Thoughts for Thursday! Remember you can write about anything you want, just grab the button and link up below.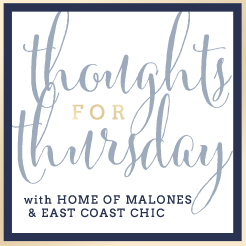 Here are some things I'm loving this week:
-The Royals
- I am OBSESSED! Anyone else? I still have one episode to watch to get caught up but I think it might be my new favorite. I could go on and on about the characters. I love to hate Elizabeth Hurley's queen. The girl they cast as her daughter could seriously be here 20 years ago.
Pioneer Woman's French Toast Casserole
- We made this for brunch on Easter morning and it is too good. Seriously it tasted like dessert, almost like a bread pudding.
Her photo not mine, I dont take pretty food photos
Kiehls Original Musk Body Lotion
- I'm always on the hunt for lotion that will hydrate my skin but smells good without being too overpowering. This lotion fulfills all the requirements. I've always been a Kiehls fan and can't believe it took me so long to find this lotion.
.
Goodnight Goodnight Construction Sit
e- if you're looking for a good book for little boys I highly suggest this one. This is Miller's current favorite book and we read it at least ten times a day.
Old Navy Active Ruched Tank
- this is my favorite workout shirt right now. It's perfect for hiding the post-baby tummy and thanks to the stretchy sides it could easily be worn during pregnancy.
- Easter m&ms- I can't stop eating all the candy!! Thankfully it's almost all gone in our house and then as someone pointed out on instagram we don't have another candy holiday until Halloween so phew. Anyone else always feel like they overindulge on a holiday?
- Miller went down for a nap yesterday with no screaming!! That's the first time that has happened in five weeks. I'm hoping we're turning a corner with this sleep thing.
- Did I mention I'm supposed to leave for my trip in 2 weeks and I'm seriously terrified to leave my babies?! I know I will have fun but I can't imagine being without them for 3 days. Please tell me I'm not alone or crazy.
Now it's your turn!
Use #thoughtsforthursdays on Instagram and tag us @homeofmalones and @eastcoastnat.
Link up starts at 7am EST.
Follow us on Bloglovin' too:
Home of Malones and East Coast Chic