Welcome to our first Thoughts for Thursday of 2015! I hope you'll join in the fun this year. Remember you can write about whatever you want. Just grab the button and link up at the bottom.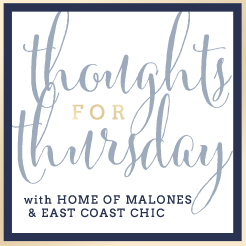 -We had our first snow day of 2015 on Tuesday and got a lot more than the weather man predicted.
I also had my first mom fail of 2015 because I never bought Miller any snow gear so he couldn't go out and play in it!! Even though it snows a decent amount here in the winter it never crossed my mind. Needless to say we have a snowsuit and boots on their way to our house as we speak.
-

Any advice for dealing with temper tantrums and screaming? I can't even count how many he has thrown this week and he just picked up the screaming a few weeks ago and it makes me want to rip my hair out!!
-We've been trying out new wines lately, now that I can drink again, and just had this one. I love a good red in the winter and this one did not disappoint for the $10 price range
- I just started reading Amy Poehler's book Yes Please and so far I love it! I'm in the need for new book recommendations so please send your favorites my way.
-You all were right the Palmetto cheese with jalapenos is even better than the original. I think I might be addicted to this stuff.
- My sweet tooth has been out of control since I was pregnant with Matthew so I gave up sweets for the month of January. Ive made it 7 days so far! To best honest I'm actually really proud of myself because I thought I would give in after two days but I haven't. That doesn't mean I don't dream about m&ms all day long.
- Matthew loves to sleep on me but I'm afraid I might be starting a bad habit because the last two nights he wouldn't sleep unless he was on my chest.
It's so hard because I don't want to give up all the baby snuggles but I also don't want to create another bad sleeper.
-We're taking Miller to get his first haircut this weekend. It's not really a cut it's more of them shaping it up so it looks better and not overgrown. I'm not going to lie I'm a little sad and nervous. I'm afraid he's going to look too grown up afterwards. I might shed a tear.
Now it's your turn!
Use #thoughtsforthursdays on Instagram and tag us @homeofmalones and @eastcoastnat.
Link up starts at 7am EST.
Follow us on Bloglovin' too:
Home of Malones and East Coast Chic