Hey Everyone! Welcome back to another Thoughts for Thursday! Remember write about whatever you want, grab the button, and link up below!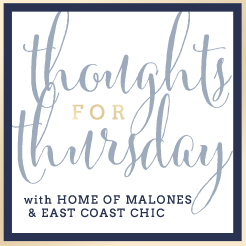 First of all I would love if you guys could take a quick blog survey for me! It will seriously take you a minute or two. Click the link below. Thank you so much!
Then I want to say THANK YOU for all of your comments and suggestions on yesterday's post! You are all so motivating and I promise to keep you up to date on my progress!

Today I want to hear from my readers! I've done this before and I loved learning more about my readers and finding blogs/social media to follow along!
1. The further place you've traveled to?
2. Favorite website to browse when you're bored (that's not a blog)?
3. Favorite movie (try to only pick one!)?
4. What's on your bedside table ?
5. Hot Coffee or Iced Coffee ?
6. Favorite places to buy homegoods/things for your house?
6. Do you have a blog, tweet or instagram? If so, share so I can follow along!
Here are my answers:
1. Florence, Italy
2. Pinterest!! Especially for those late night feedings
3. Legally Blonde
4. Kindle, glass of water, magazines, pacifiers, and burp clothes
5. Iced Coffee
6. Homegoods, Target, Pottery Barn and Ikea
6. Instagram: @eastcoastnat Twitter: @eastcoastnatt
So tell me about yourself in the comments!!
Now it's your turn!
Use #thoughtsforthursdays on Instagram and tag us @homeofmalones and @eastcoastnat.
Link up starts at 7am EST.
Follow us on Bloglovin' too:
Home of Malones and East Coast Chic