Happy Thursday Y'all! Sorry I've been MIA all week but this two kids thing is kicking my butt. The sleep deprivation and lack of free time are catching up with me and everyone in house would prefer clean laundry over a blog post! Thank you again to everyone who links up!! You know the drill- grab the button and link up below!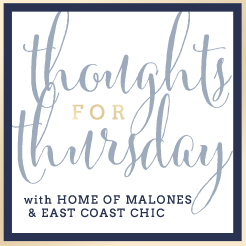 -We only have two ornaments on our Christmas tree this year. One to represent each one of the boys. I attempted to decorate and when Miller saw it he just said "ball, ball, ball" and proceeded to take all the "ball" ornaments off the tree and throw them. I'd rather have no ornaments that have to say no to him 100 times a day.
- We had professional family photos taken over the weekend and they turned out so well. Getting a 17 month old to cooperate was tough but the photographer was so patient and good with Miller. Here's a little sneak peek:
- I'm on the hunt for a Christmas party dress for Kyle's boss' annual holiday party and these are my front runners below. I tried them both on at Nordstrom but can't decide which one I want! I'm leaning toward the sleeves since I'm pale and out of shape.
- Does anyone have a good resource for faux garland? I feel all I've found is really fake looking stuff. I'm looking for some we can use for years to come so I'm willing to spend a little more on it.
- My diet coke addiction is coming back with a vengeance. I used to be a 2-3 cans a day drinker and then I kicked my habit except for few here and there and now I'm craving them all the time! I've been buying the little cans so I can get my fix without having too much.
- My ice craving is completely gone. It's so crazy how I have zero desire to chew ice when just a few weeks ago I was eating it non stop and couldn't get enough.
- For some reason I did not lose my sweets/sugar craving. My butt and thighs are not happy about that.
-Instead of Christmas music I've been listening to think album non-stop:
It's finally a grown up less cheesy Taylor Swift
Now it's your turn!
Use #thoughtsforthursdays on Instagram and tag us @homeofmalones and @eastcoastnat.
Link up starts at 7am EST.
Follow us on Bloglovin' too:
Home of Malones and East Coast Chic