Hey Everyone! I'm officially back to Thoughts for Thursday! I still have some guests posts for December as I'm not totally back but I had to return to my TfT :) Remember grab the button and then link up below. Can't wait to see what's on everyone's mind this week.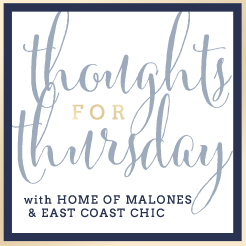 I stumbled upon a story on Gomi** yesterday that led me to a long thread that was like a bad car accident. It was awful but I couldn't look away. It was a blog and blogger I had never heard of but the gist of it was this person stole other bloggers content and pretended it was hers and that she had this beautifully crafted life. It got totally crazy and I don't feel like rehashing the whole thing but one thing that stuck out to me was this girl just wanted to have "the perfect blogger life". Obviously stealing other people's copyrighted images and context is very wrong but she was clearly desperate to fit in. Blogs and social media have created a new kind of mean girls club that people just want to be a part of. The thing is we can craft our internet lives to look as amazing or as awful as we want. It got me thinking about what I say and do and the pictures and image I present on this blog.
I try my best to keep it real but I think at this time of year with all the elaborate wishlists, gift guides, and perfectly decorated mantles and front doors it's hard not to compare yourself. It's hard not to think that your house isn't decorated enough or your budget isn't big enough for all the "must haves". I know I'm doing it myself with so many things right now when I know I shouldn't.
So if you knew me in real life here are some things you'd know...
-Life with two kids is really hard. I feel like I may have made it sound easy
on Monday
. It isn't easy. It hard, exhausting, and challenging. I've never felt such guilt doing simple tasks in my entire life.
-Matthew has totally rocked Miller's world. The past 3 days Miller has been so jealous and acting out. I'm trying to put myself in his shoes (instead if just getting angry) and think about how overwhelming this must be for him. Then of course I cry because I feel guilty.
-I don't like asking for help, on anything. It makes me feel like a failure.
-I feel guilty about how easily I got pregnant. I have many girlfriends who have suffered with infertility or are dealing with it now and it just plain sucks. I can imagine they've hated me a time or two in the past few years and I don't blame them.
- I can be a huge bitch.
-I shower maybe twice a week these days
-I'm a piler. I have piles all over my house. Piles of bills, piles of clothes, piles of stuff. Piles everywhere. It's my way of "organizing" stuff I either don't want to part with or am too lazy to put away.
-We've never had anyone but family babysit Miller. I can't imagine leaving miller or Matthew with a baby sitter. I know I'm being completely crazy and need to get over it but I just don't know if I can trust anyone enough.
-I'm a huge control freak. People keep telling me to have give Kyle some chores to do around the house to help but I can't because he's just going to do it wrong!! I like things done my way.
-I like to be in charge.
-I'm terrified of flying but love to travel. Xanex and wine help that problem.
-I love nursing my babies but it's just like being pregnant in so many ways and I'm ready to have my body back. I will continue to do it but it's so hard.
-Before we had kids I had a crazy busy social life and was always out with friends, traveling, partying, etc. I'm lucky if I see them every other month these days.
-Sometimes I miss my old life and the 1am trips to Pizza Boli's and hangover brunches. Hangover brunches are my favorite.
-I'm always late. Always.
-My marriage is great but having kids totally changes everything. We are in the thick of being mommy and daddy right now that it's hard to even remember who Kyle and Natalie. Sometimes I worry we'll never get back there.
-I love shopping and spending money. Sometimes I feel so shallow and materialistic but new clothes, shoes, bags or make up feel like therapy sometimes.
-I have a shopping allowance. Kyle paid off a bunch of my credit card debit after we got married so I've had an allowance ever since.
-I don't like going anywhere without make up on. I wish I could be one of those roll out of bed and go people but I'm not and I never will be. I even have a hard time embracing the mom yoga pants uniform because I feel the need to be more dressed up. I think it's the uniform wearing catholic school girl in me.
-I have about 11lbs of baby weight to lose. It doesn't sound like a lot but after 2 pregnancies in 16 months nothing is in the same place. It feels more like 20lbs. I'm afraid I may never get my pre-baby body back. I'm afraid of how long it might take.
-I put Miller in two playgroups this year but they're really for me. I'm looking for some "mom friends" and I don't feel like I'm any good at making friends anymore. Motherhood can be lonely and isolating.
So tell me what's something we would only know about you if we were real life friends?!
*Sorry for the heavy post, you can blame my pregnancy hormones :)
**Gomi for those who don't know stands for Get off my Internets and its basically a blogger hate site with forums where people bitch about/trash bloggers. It's gross, google it of you want to know more because I refuse to link to it from here.
Now it's your turn!
Use #thoughtsforthursdays on Instagram and tag us @homeofmalones and @eastcoastnat.
Link up starts at 7am EST.
Follow us on Bloglovin' too:
Home of Malones and East Coast Chic