It's Thursday again already! Does anyone feel like last week went really slow and this week is flying by?
Here is what I've been into this week...
Eating...
I've been on huge Greek yogurt kick and I cannot get enough of this stuff!
Drinking...
I usually go on a La Croix flavor kick for a few weeks and this one has been mine flavor for the past few weeks. So good!
Reading...
Big Little Lies
Just started it and so far I'm loving it!! Cannot wait to see what happens
Watching...
This Family Feud on the Tonight Show skit with Jimmy Fallon, Jason Segal, and The Roots
Can't stop laughing!!!
What have you been enjoying this week?!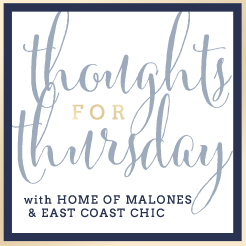 Use #thoughtsforthursdays on Instagram and tag us @homeofmalones and @eastcoastnat.
Link up starts at 7am EST.
Follow us on Bloglovin' too:
Home of Malones and East Coast Chic