Thanks again for joining us for another Thoughts for Thursday!! Remember you can post about anything you want- just grab the button below and link up at the bottom.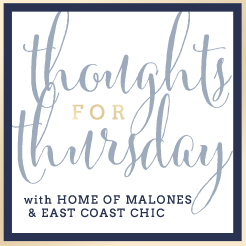 I am a huge fan of monograms, which you probably already know. I would seriously monogram everything if I could. It takes all my willpower not to monogram everything Miller wears.
Here are some items I have my eye on:
I love this clutch! Just something about the white with a gold monogram. I also love that you can use the strap or not. Plus it's only $37!
I stumbled upon the
Stacey Brown Designs
website thanks to Instagram and now I'm hooked!! She not only has these adorable monogrammed bracelets but tons of other bracelets and monogrammed home accessories. I love the black and green shown above but I also love it in the navy blue and gold combination.
I've talked about this Etsy shop
Social Manor
before but I still haven't bit the bullet on buying anything but both of these bags are calling my name! The are both great Longchamp type knock offs and the tote is $36 and the weekender is $48!!
I've been on the hunt for some monogrammed pillows for our living room and I think these are it! Im so glad I stumbled upon this Etsy shop in my searches. I'm not sure what color we'll get yet but I love that this pair is only $70
Are you a monogram fan? Do you monogram everything too?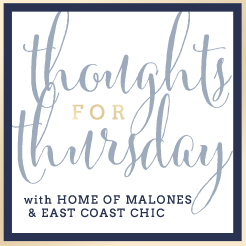 Use #thoughtsforthursdays on Instagram and tag us @homeofmalones and @eastcoastnat.
Link up starts at 7am EST.
Follow us on Bloglovin' too:
Home of Malones and East Coast Chic