Hi and welcome back to another Thoughts for Thursday! Remember you can blog about whatever you want. Just grab the button below and link up at the bottom.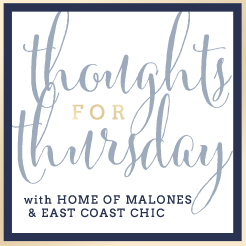 - This is the state of baby #2's nursery. As you can see we've done nothing and this room has been a bit of a catch all this past year. The clean out starts this weekend.
All my old clothes from either working or that don't fit anymore.
- I'm actually excited for Baby #2 to wear Miller's clothes because I had some outfits I really loved and hated putting away. I just hope I can pull it off with sizing since they're going to be born in totally different seasons.
- I have bought him a few new outfits though so it's not only hand-me downs.
- I've changed my mind for the 10th time and I think I want this Jenny Lind crib for his nursery. I was at first worried it might be too feminine but I've found some good inspiration photos on Pinterest.
- As much as I've been hating the heat (despite our quite mild August) I am sad to see summer go. I'm going to miss the pool the most. It's been so much fun for Miller this summer and such a good way to get through our long days.
- I also know come December I'm going to be sorry I ever complained about the heat and wishing for warm days so I'm going to enjoy it as much as I can.
- We have a full blown toddler on our hands these days. I'm so blown away by how much he has grown up since his 1st birthday. I feel like I see less and less baby everyday :(
- We've also suddenly developed a very picky eater and he can love one thing one day and hate it the next and then love it again. I'm assuming this just comes with the territory but man is it hard to figure out what he wants to eat!! He also suddenly hates all fruit- I've been giving him the baby food fruit pouches so he at least gets some but anyone have any suggestions?
- We are going out this weekend to celebrate our 5 year anniversary!! We haven't had a date night that doesn't involve a wedding sinc April so I'm super excited to go out and get dressed up. Since I'm pregnant (and no fun) we decided to hold off on a big trip until next year. We're thinking the Caribbean- anyone have any resorts they love? We've been to Aruba and St. Maarten, I'm thinking maybe St. Lucia or Barbados. I'm looking for relaxing, good food and drink, and no kids :)
- I could really use a glass of wine these days. Phew this whole not drinking for what feels like 2 years straight is getting hard haha.
Now it's your turn!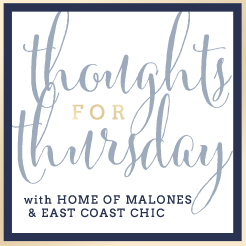 Use #thoughtsforthursdays on Instagram and tag us @homeofmalones and @eastcoastnat.
Link up starts at 7am EST.
Follow us on Bloglovin' too:
Home of Malones and East Coast Chic