Hello, hello and welcome to another Thoughts for Thursday!! Thank you to everyone who links up every week. Remember you can write about whatever you want- just grab the button below and link up at the bottom.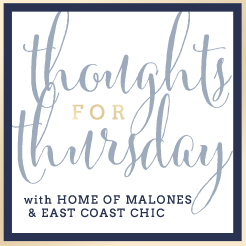 Since I have less than 10 weeks left in this pregnancy I really want to avoid buying anymore maternity/bump friendly clothes. With the clothes I've purchased to get through the summer and the cooler weather options I have left from my pregnancy with Miller I've decided to give myself a 30 day closet remix challenge. I first did one of these back in January when one of my favorite fashion instagrammers mrsstrock did one. You can see my post about it here. The idea is that you "shop" your own closet for 30 days. The goal is to not bring anything new into my wardrobe and to only work with items I currently own. This includes accessories like jewelry, scarfs, handbags, and shoes too.
I'm going to start on September 1 and end on September 30th. In order to hold myself accountable I'm going to be documenting my outfits on Instagram and post weekly here on the blog. I can't guarantee that I will document all 30 days since it isn't always glamorous around here but I will try. If anyone is interested in joining in the fun my instagram is @eastcoastnat and I'm using the hashtag #ecn30dayclosetremix
With a limited maternity selection this could get interesting but I keep reminding myself that I don't want to spend any more money on maternity clothes so I can spend on fun winter clothes once I have this baby!
In other news I have some fun posts in the works for next week thanks to all your great suggestions!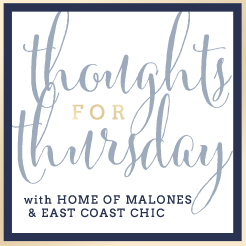 Use #thoughtsforthursdays on Instagram and tag us @homeofmalones and @eastcoastnat.
Link up starts at 7am EST.
Follow us on Bloglovin' too:
Home of Malones and East Coast Chic