Thanks again for joining us for another Thoughts for Thursday!! Remember you can post about anything you want- just grab the button below and link up at the bottom.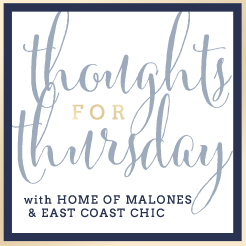 Today I'm throwing some confessions your way:
- I failed on my no spend month. Once I ripped the band aid off buying the hanky panky underwear it was all down hill from there. I'm not proud of myself but besides one item the rest of the stuff was stuff I need. Like shirts that actually cover my stomach and new pajamas for Miller.
-My husband travels a lot and works late a lot and I've started to rely on the tv more to entertain Miller in the evenings. I'm not proud but I'm exhausted and need to get stuff done, like making him dinner.
- I'm so happy that Miller can walk but man is it exhausting. We go on another vacation next weekend and I'm scared he's not going to sit still at all. Which means no relaxing for me. Ugh.
- I am in no way prepared to have 2 kids in 3.5 months. I think I'm in denial.
- I made my husband buy me chocolate chip cookies the other night and I immediately ate 4, the next day I ate 4 and then I threw the box away because I have no self control. I almost went back into the trash for them a few hours later. Almost.
- I'm not sure I'm cut out to be a stay at home mom. I'm not saying I'm ungrateful for this opportunity or regret my decision but some days are just really hard. Sometimes I just want to talk to adults about stuff that doesn't involve babies, kids, schedules, diapers, bottles, etc. I also miss getting dressed, showing up somewhere and really using my brain.
- In addition to adult interaction I miss having my own money. A lot.
- I like for the main living areas of my house to be neat, tidy, and organized. Our master bedroom is another story- it looks like a bomb went off in there 5 out of the 7 days in a week.
- I'm pretty sure I'm going to gain another 40lbs this pregnancy. I was doing so well and lately I am just packing on the pounds. It's really frustrating because I'm being so good compared to when I was pregnant with Miller yet I'm still gaining weight. I'm trying to just come to terms with the fact that this is how my body gains weight while pregnant.
- After just about swearing off reality tv for the past year I am back to watching all the trash- housewives, millionaire matchmaker, the kardashians. Ugh. Why do I just keep getting sucked into that trash?!
Now it's your turn!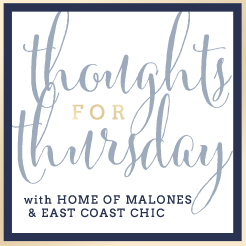 Use #thoughtsforthursdays on Instagram and tag us @homeofmalones and @eastcoastnat.
Link up starts at 7am EST.
Follow us on Bloglovin' too:
Home of Malones and East Coast Chic