Welcome back to another Thoughts for Thursday! Thanks again to everyone who joined us last week. We can't wait to see what you all are thinking about this week! Just grab the button below and link up at the bottom. Remember you can post about anything you want! For some examples of previous posts, click
here
.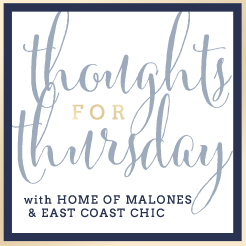 Last week after I posted about our budget and meal planning a few of you emailed me asking what our menu/meal planning looked like so I figured I would do a post on it. I want to warn you all that it isn't very exciting and I'm not a huge cook but it's what works for us and is helping to save money.
As I mentioned in the original post, which you can find
here
, we don't just plan dinner we plan all meals and snacks for the week. So most likely there is a lot of repetition and leftovers.
Let me give you a background on how each of us eats :
Natalie- I am one of those people who could eat the same thing over and over again and once I find something I love I stick with it. I pretty much have "a meal" at every restaurant and I never ever order something different. I consider breakfast my most important meal of the day and am less concerned with dinner.
Miller- Food is still very hit or miss with him but I'm going to tell you what I make him for every meal. Does he always eat it? Not always, but we're still trying.
Kyle- Needs a ton of variety and flavor in his meals. Considers dinner the most important meal of the day and doesn't worry too much about breakfast or lunch.
Kyle and I always discuss the dinner menu on Sundays for the week because one of our biggest challenges prior to meal planning was that I would cook/prep a dinner and then he wouldn't be "in the mood" for it and just eat something else or make his own dinner. This got super frustrating and caused stupid fights. So now you have to eat what's being cooked for the designated day or we can switch days as long as we discuss it before hand.
Here are some sample meals that we eat each week:
Breakfast:
Natalie- 1 egg sprinkled with shredded cheese on a whole grain english muffin
1/2 cup fruit
Miller- 1.5 pancakes, waffles, or toast with butter (I make a batch of waffles or pancakes on the weekends and then freeze them for M or myself to eat during the week)
1/4 -cup fruit
Kyle- 1 Fage fruyo yogurt and coffee (from his office or home, no more trips out for coffee)
I eat the same exact thing for breakfast every single day. Sometimes instead of an egg sandwich I might have an egg and toast or egg with a waffle but I'm pretty boring. Miller doesn't usually eat everything I give him and fruit is still a bit of challenge but this is what I offer him. Kyle will usually grab a yogurt or just skip breakfast all together.
Snacks:
- hummus with celery or pretzel chips
- apple with peanut butter
- kind bar
- string cheese/laughing cow cheese
- cheese and crackers
- greek yogurt
- cheerios with fruit or cheese slices for Miller
We try to pick out
2
of our snacks to have in the house each week. I try to keep snack food to a minimum because I LOVE snacks and I will eat everything we have instead of having dinner. I always have cheerios for M because he loves them and then I add cheese or fruit to them for him to snack on.
Lunch:
Natalie-Tomato, spinach, mozzarella salad with peanut butter or avocado toast
or
Frozen Amy's meal
or
Leftovers from dinner
Miller-
- jelly sandwich
- avocado toast
- grilled cheese
- mac and cheese
- 1/4 cup fruit or veggies
Kyle- I usually make Kyle a turkey/ham sandwich, chips, and snack (kind bar or apple) for lunch. He has a lot of work lunches so I probably only make him lunch 3 days a week on average.
or
leftovers from dinner
Dinner:
Miller-
- Mac and cheese with broccoli
- Ravioli with broccoli
- Chicken and sweet potatoes
- Cheese quesadilla with avocado
These are some dinners that currently work for M. He only likes to have 2 different foods on his plate or he won't eat it. Would love suggestions on easy toddler dinners if anyone has any! M isn't exactly the biggest eater quite yet but we're slowing working on it.
Here are our go-dinners:
- Turkey Tacos with sliced avocado
- Chicken fajitas
- Garlic and Shrimp with french bread
- Grilled buffalo chicken on biscuits
- Grilled BBQ chicken sandwiches
- Ravioli with garlic bread
- Seasoned salmon/fish
- Baked Chicken Chimichangas
- Shrimp fajita salad
- Pasta with caprese salad
- Salsa chicken
- Lime and cilantro chicken
- Lemon pepper salmon
- Baked chicken with salad and bread as a side (seasoned as we choose)
- Shrimp and vegetable stir fry
Here is what a typical week might look like:
Sunday- Baked chicken option
Monday- Turkey Tacos
Tuesday- Lime and cilantro chicken
Wednesday- Lemon pepper salmon
Thursday- Ravioli
Friday or Saturday- Grilled buffalo chicken on biscuits
-out to dinner or get take out one night a week
For sides: I usually have a small salad with my dinner or green beans or broccoli. I sometimes eat the starch but not usually, dinner is not a big meal for me. Kyle usually has the veggie in addtion to bread, a roll, garlic bread, baked potato, sweet potato, or french fries. I keep a bag of frozen rolls or biscuits and garlic bread in our freezer since we can't ever eat fresh bread fast enough. Plus then it's easy for Kyle to just pop one in and I'm not wasting anything. We also eat mostly frozen veggies.
We try to eat seafood once a week. On the days we eat the seafood meal I usually buy it that day from Wegmans, Whole Foods, or our seafood market and then get fresh bread to eat with it. We always have a meat free meal or two and mix it up in the surrounding days. Wednesday is a day that Kyle is usually home earlier so we usually have our seafood dish on that night so he can eat it freshly cooked. We grill on Fridays or Saturdays and get take out or go out to dinner one of those days.
We always keep one dessert in the house each week (hence why I skip the carbs at dinner) it's usually an ice cream treat but sometimes it's brownies or cookies. I have a huge sweet tooth and have to have dessert after dinner.
I hope this helps everyone who asked. As I said it's not the most exciting but it's what works for us right now. If you have any questions feel free to ask me and if you have any simple dinners that your family loves I would love to hear about them.
Now it's your turn!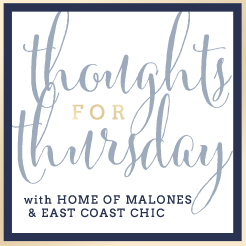 Link up starts at 7am EST.
Follow us on Bloglovin' too: