I can't believe it's Thursday already!! This week is flying by! I just want to say a big THANK YOU on behalf of
Annie
and myself for everyone that has joined our little Thoughts for Thursday link up! I love reading what you all are thinking about each week. So again thanks for playing along, and if you haven't joined up yet feel free too. Just grab the button below and link up at the bottom!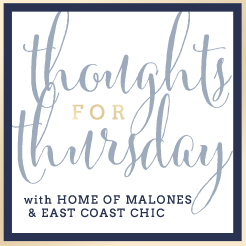 - My baby turns 1 tomorrow!! I just can't even get over how fast this year has gone by. I know you all are probably sick of hearing me say this but I swear my pregnancy felt like 3 years and this first year of motherhood has felt like 3 months.
-Speaking of first birthdays I am so, so, so excited for his party on Saturday. This party has been a real labor of love for me and I just cannot wait to watch it all come together.
-I may or may not have spent more time planning this first birthday than I did my wedding. I swear I've been having dreams this week like I did for my wedding where something happens or the cake is forgotten, etc.
-Fingers crossed the rain holds off until Sunday.
-Pregnancy exhaustion is no joke. I need at least 7-8 hours sleep to function every day but with all the late night party crafting and pregnancy insomnia I'm only getting 5-6 and I'm a zombie. I would love a large DD iced coffee, damn that no caffeine rule.
-Chasing an 11 month old around while 5 months pregnant does not help the exhaustion level.
-If you had told me this week last year that I would be 5 months pregnant at Miller's 1st birthday I would have laughed in your face and told you it would be years before I went through this again. Ohhhh how life works itself out.
-Kyle has been out of town this week so that's been adding to my party planning stress. Thankfully Kyle be back today.
-Thank god for Amazon Prime. I don't know how I would survive without it. I have quite a few last minute things showing up today thanks to them.
-My sister has been in Italty for the last 10 days on the trip of a lifetime and I am soo happy for her but I desperately miss her! We talk on the phone at least 1-2 times a day and send each other at least 100 texts a day. The fact that I am getting through this party planning without her
keeping me calm and telling me I'm not a total psycho
help is quite an accomplishment.
-Sorry for the lack of pictures... but I promise to bombard you next week with lots and lots of first birthday pics!!

Now it's your turn!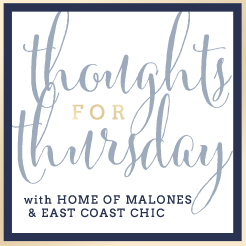 Follow us on Bloglovin' too: