Happy Thursday! I again feel like this week flew by. I think because I have Miller's impending party followed by a beach vacation and I have about 1000 things to accomplish I feel like I have no time.
I hope that you will join us again for another Thoughts for Thursday! Just grab the button below and link up at the bottom.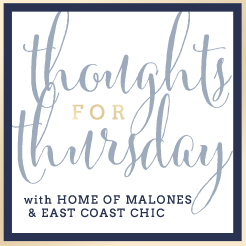 -Yesterday while walking Layla and Miller through our neighborhood I witnessed a young girl hit a mailbox and drive away!!! I had just passed that mailbox about 20 seconds earlier and when I heard the loud crunch and boom, I turned to see her swerve away and drive off as the mailbox lay in the middle of the road. I stood there a few minutes in shock thinking she might turn around but she never did. I rang the doorbell of the house where it happened but they weren't home so I flagged down the neighbor next door as she came out of her house and told her. Turns out the people are on vacation but she let them know.
I'm still really shaken up by it, as she could have easily hit us or someone else. I am also in shock that she drove past me (I saw her face), hit a mailbox and then drove away. She knew that I saw her, her car, and the whole thing!! I honestly would not have been mad or yelled at her, if that was her fear, I know we all make mistakes but driving off when you know you've done something wrong and avoiding the responsiblity just pisses me off.
The owner of the house took to our neighborhood Facebook page to "report" the incident and asked the person to come forward- of course this started major drama (my neighborhood FB page is always drama) but I'm hoping that this person will come forward and take responsiblity for their mistake. As hard and as embarrassing as it may be she at the least owes an apology to the homeowner for ruining their mailbox.
I am not immune to distracted driving and I have done my fair share of texting while driving when I know it is wrong. If anything this incident has been a big eye opener for me about just how quickly we can lose control and hit something even when we think we're in control.
-Pretty Little Liars is Back!!
If you've been reading this blog long enough you know that ABC Family shows are my guilty pleasure. I can't wait to see the twists and turns now that Allison is back.
- When do babies typically drop their second nap? I of course googled this questions and most reputable journals said 18 months. Miller takes an awesome morning nap but his afternoon nap, if we get one, is all over the place. He can sleep anywhere from 30 mintues to 3 hours. I would say that 5 out of the 7 days he doesn't even take an afternoon nap which just leads to a cranky, cranky baby by 4pm. Any advice on this? He's usually up around 6-6:30 and down for his morning nap around 9am. Should I try pushing it back or should I just accept one good morning nap and keep attempting the afternoon one even if it's only 30 minutes.
- I some how just discovered this Ben and Jerry's flavor...
It's chocolate amazingness and if I keep buying desserts like this I'm going to gain another 40lbs.
- I got an eye exam yesterday and need new glasses. It's been about 2-3 years since I've gotten new ones and I'm suprised and how much the styles have changed. Does that make me sound old?
Also can we talk about how awkward trying to pick out a pair of glasses is all by yourself? So I obviously started taking selfies. I then text this picture below to my husband in which he responds "Yeah they look fine." Yes honey, fine is exactly the look I was going for. Ugh, men. I'm leaning toward the style below but going to go back next week to look again and make a final decision.
- I am currently obsessed with country music. I go through phases where I love it and then I suddenly hate it. I feel like so much of it is sooooo cheesy but it's so catchy and fun for summer. My current favorite: Luke Bryan- Play it Again
Now it's your turn!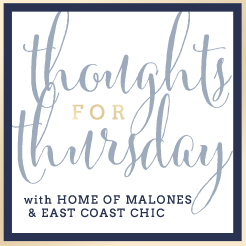 Follow us on Bloglovin' too: